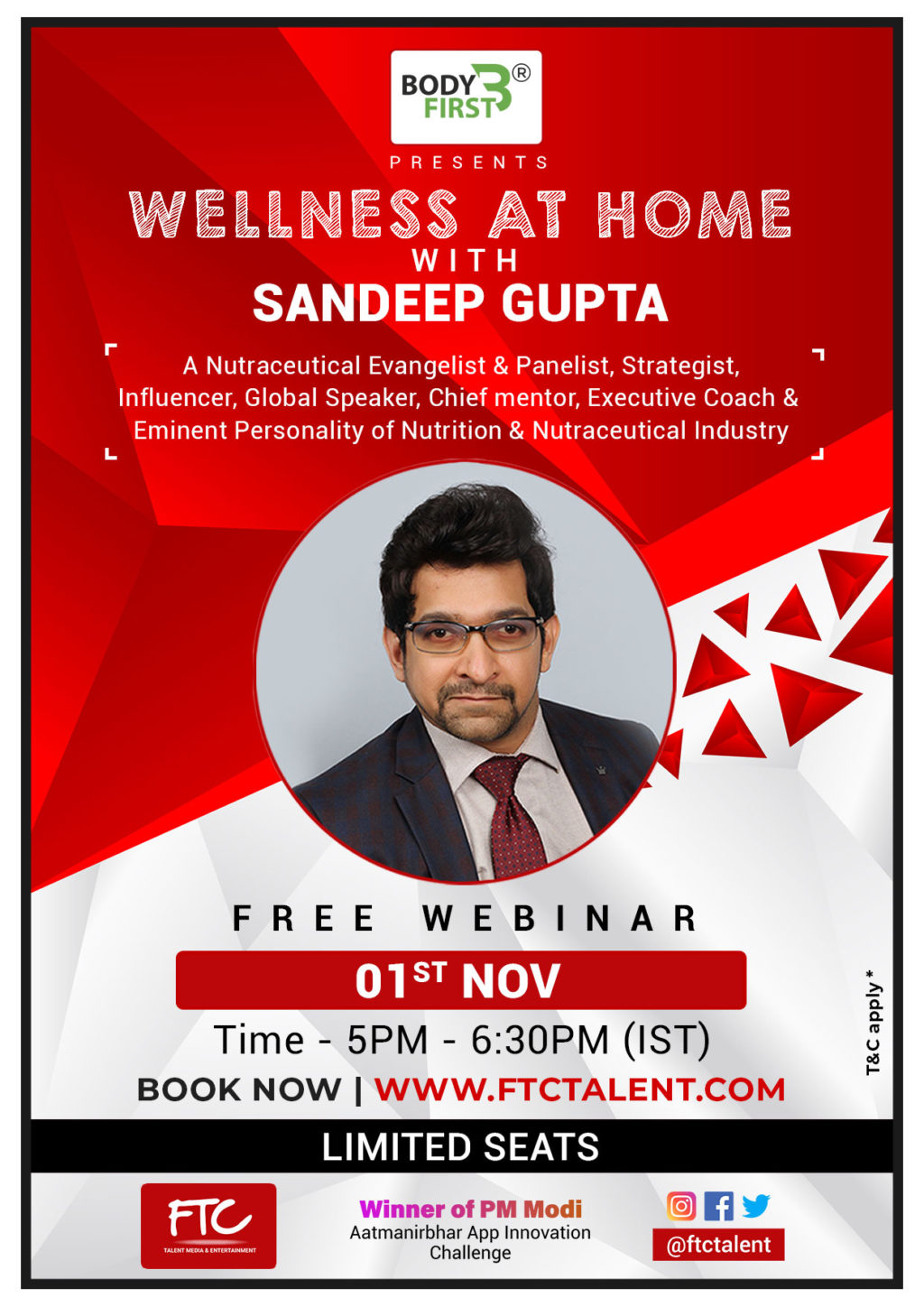 Health is Becoming the Culture of the World and Taking charge today & Lead.
In the era of unheralded biological hazards and everyone adjusting to the 'New Normal' with the COVID'19 Pandemic and with daily stress, health is not an abstract issue at Global or National levels, but a concrete reality that touches individuals, households and communities. Reducing the burden of diseases is very essential and factors like boosting immunity and a health conscious lifestyle play a major role. This Exclusive Webinar will unveil the Secret to Robust Immunity and a Healthier Lifestyle, Because we believe You are Made For More.
Classes:
Free Online Webinar With Sandeep Gupta – 01 November 2020
Topics –
1. Evolving into New Normal
2. Unveiling the Secret to Healthy Lifestyle
3. Achieving Wellness At Home
4. Good, Better, Best & Robust Immunity
Mr. Sandeep Gupta, Passion Man is a Nutraceutical Evangelist & Strategist, Influencer, Global Speaker, Panelist, Chief Mentor, Executive Coach & Eminent Personality of Nutrition & Nutraceutical Industry. He is a Pharmaceutical Graduate and Master's in business Administration, currently associated as a distinguished Member of Leadership Excellence at Harvard Square, USA. In his recent endeavors, he has been coached by John Mattone (who also coached Steve Jobs then), USA and is also a certified Intelligent Leadership Coach, mentoring Top Management and Board of Directors of Various Organizations
His leadership dynamism over 25 years of extensive experience with Pharmaceuticals & Nutraceuticals in functions of Sales, Market Research, Marketing, Business Development & Business Strategy making with core strength of ideation, conceptualization and categorization of product portfolio which are consumer focused for various markets and is also dealing with Regulatory, Corporate, Legal & Government Affairs. He has launched more than 400 Nutraceutical Products and has evaluated more than 1000 ingredients globally
Mr. Gupta, is Mentoring a National Level Wellness Project as the Chief Strategic Director, along with
Bollywood Celebrities and sports clout leading in the forefront with integrated due diligence and
with the baton of Strict compliance of Clean, Safe & Qualified Nutrition with a holistic approach of
Family Nutrition, setting a Strong ecosystem of Education, Awareness, Engagement and Networking
for the masses. He is also spearheading International Alliances to bring World class Nutritional
products to India.
Mr. Gupta is the Chief Founder & Director of the First and the only Nutraceutical Council, Expert Nutraceutical Advocacy Council (ENAC®) where his Core Purpose is to focus on "Creating Harmony through Education, Awareness, Engagement & Networking for the Growth & Development of the Nutraceutical Sector"
He is Leading ENAC® with more than 150 Experts, MNCs and Indian companies, Academics and Informed Consumer Choice. He has launched Nutraceuticals Program in leading Institute of LifeScience and aspires to open an E-school for Nutrition, Healthy Eating and Nutraceuticals supporting campaign of ATMANIRBHAR initiated by the Honourable Prime Minister of India.
He also leads and chairs associations like CoSGM (Council of Soft Gelatin Manufacturers) and was associated with IDMA (Vice Chairman, Nutraceutical) for past Nine Years. He has been a National Task Force member at CII & FICCI for Nutraceuticals. He has been associated with various trade bodies like AHAR &CAIT for Integrating the Food Industry objectives. He was also an Advisory & Organizing Committee Member of IUFoST India, 2018.
Currently, his major involvements are being a Chairman – Standard Review Group, Nutraceuticals at FSSAI (Food Safety & Standards Authority of India), Advisory Board Member, UBM (Nutraceuticals & Functional Foods) & overall highly active and agile National Spokesperson for Health Care & Food Industry in India and Internationally. His recent achievements being the First and the only Indian on Executive Advisory Board at Informa Exhibitions (Vitafoods & Supply Side), Panelist Judge for Nutraceutical Ingredients Asia Awards since 2018 is commendable and has recently appeared in the list of 100 top Achievers – leading with excellence globally